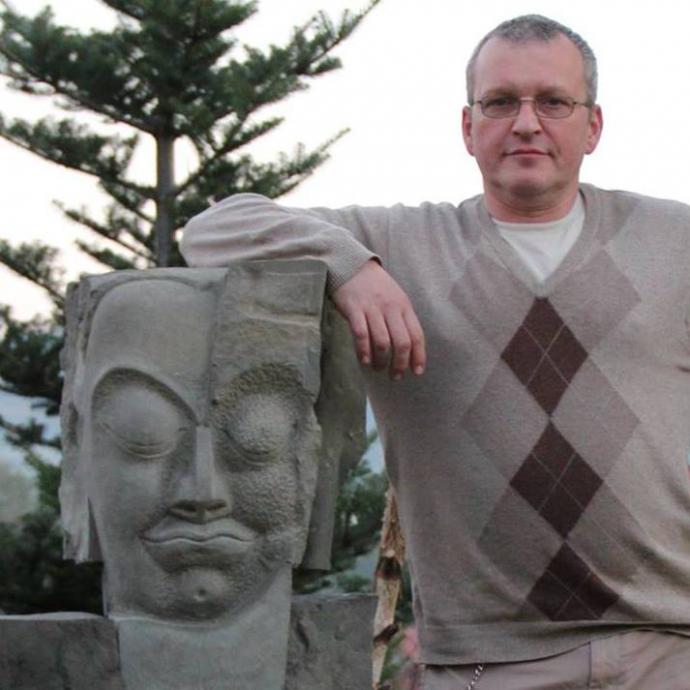 Milosz Plonka
- sculptor and painter
Poland, Warsaw
Milosz Plonka, born in 1969 in Wadowice, is an artist whose works include sculptures, paintings and illustrations.
In 1989, Plonka graduated first from the famous School of Arts in Zakopane, named after Anthony Kenar.  Following his graduation, he studied at the Department of Ceramics and Glass at the Academy of Fine Arts in Wroclaw from 1990 to 1992 in the studio of Professor Alojzy Gryt, and then from 1992 through 1996 he continued his art studies in the Department of Sculpture at the Warsaw Academy of Fine Arts , in the studios of : Professor Adam Myjak and Professor Jan Kucz. In 1996, he was awarded a diploma with honours in sculpture from the studio of Professor Adam Myjak, with annexe in Drawing and Painting from Professor Jacek  Sienicki in Warsaw. From 1997-1998 he received scholarships to study abroad at the School of Fine Arts (Inter-lab under Professor Juraj  Bartusz) in Bratislava, Slovakia and Benares Hindu University (Faculty of Visual Art, sculpture under Professor Balbir Singh Katt) in Varanasi , India. Between 2000 and 2001 he taught at the School of Arts in Nowy Wisnicz. He participated in individual and collective exhibitions, fine arts performances and outdoor activities in cities across Poland, including in Warsaw, Krakow, Reszel, Wadowice, Krotoszyn, lowicz, Andrychow, as well as abroad in Isny Algau ( Germany ), and Saint Henri, Gaanat, (France), Komorno, Bratislava , Kremnica ( Slovakia ), and Varanasi ( India ). Plonka had the honor being invited to participate in the International outdoor sculptural exhibition in Fuzhou, China in 2003, where his design was featured in the Exhibition catalog.
Plonka currently divides his time and labor between Warsaw and Andrychow. The theme of most of his works centers around man as a subject. The reality of people or man is often blurred through abstraction and a  dreamlike state evoked by using geometric refraction and distortion. Plonka subjects an image of the man to various artistic operations, arising from thorough psychological analysis . Characters presented by the artist acquire different meaning, becoming the subject of many interpretations. Some of them run through the internal mechanisms.